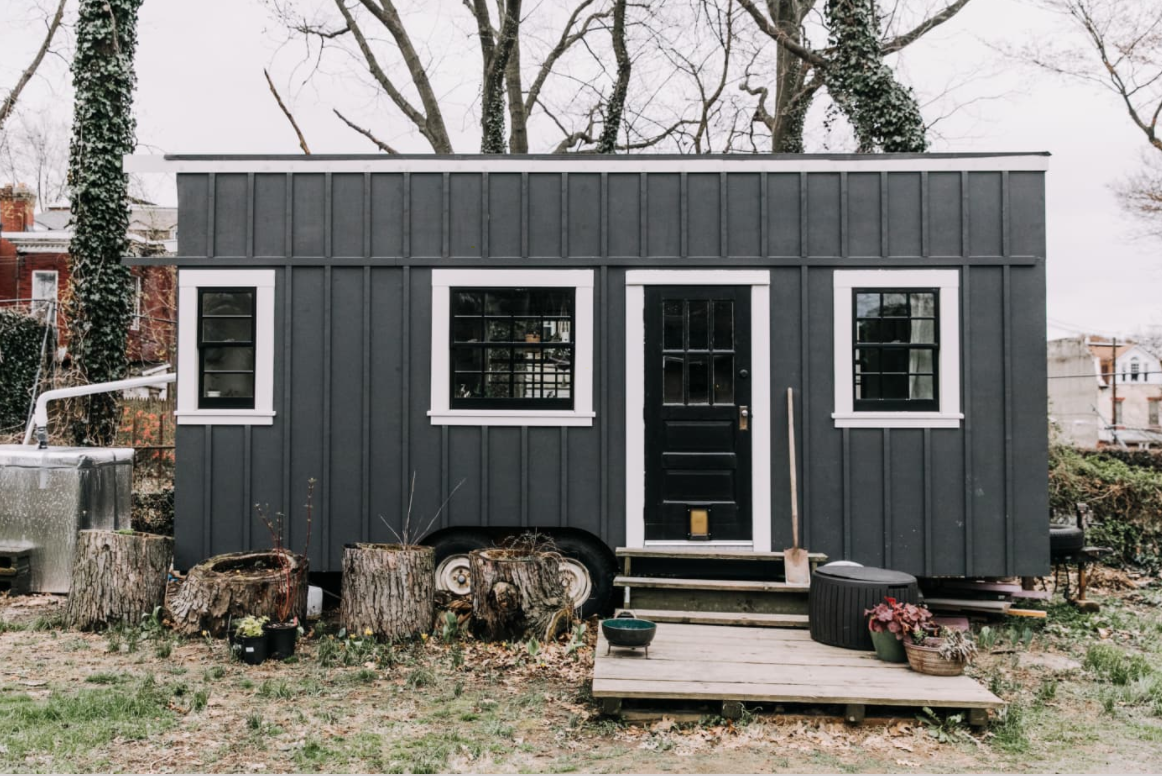 My well-documented obsession with all things designer Sarah Sherman Samuel does continues, and in today's latest installment, I wanted to discuss her decision to paint the exterior of the #SamuelFixerUpper black. Or off-black. "Caviar" by Sherwin-Williams, to be exact, and this isn't the first time she's gone dark on the outside of her own home. So one thing's for sure—deep colored exteriors are trending.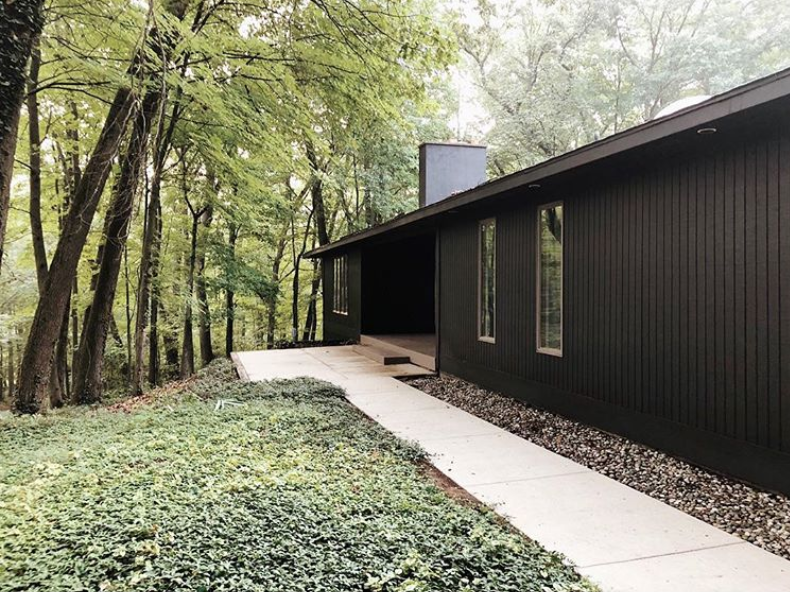 But going to the dark side is a polarizing decision because, in addition to all that design goodness, there are a few real drawbacks. Let's talk both sides of the coin a bit here. Clearly, we're not going to change SSS's mind, but some of you out there might be on the fence, and this dark exterior debate could help you make a better decision.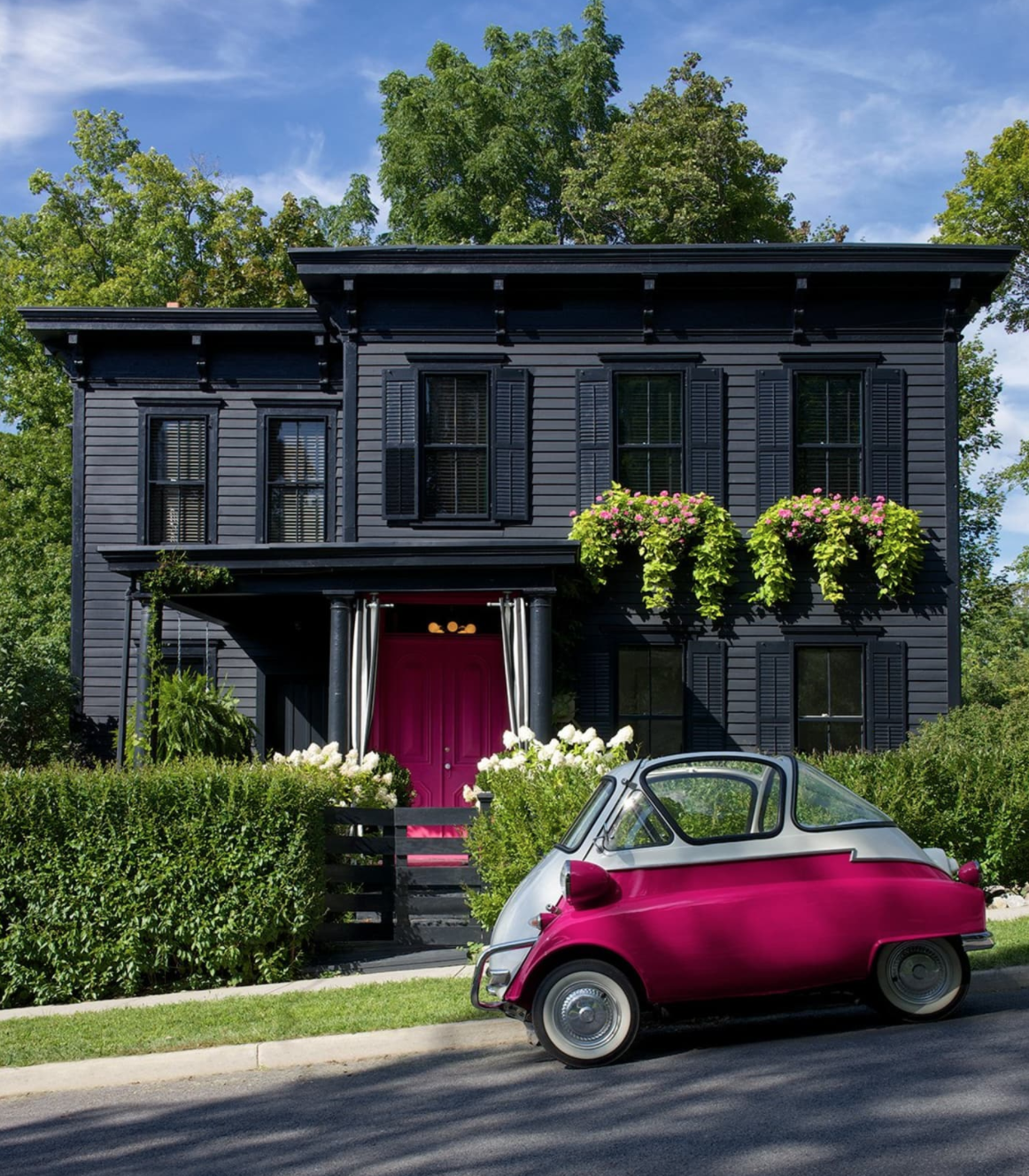 First things first, you can't really pick a more striking exterior color than black these days—it pops against greenery because of the contrast in tones and will definitely make your house stand out against the others on your block.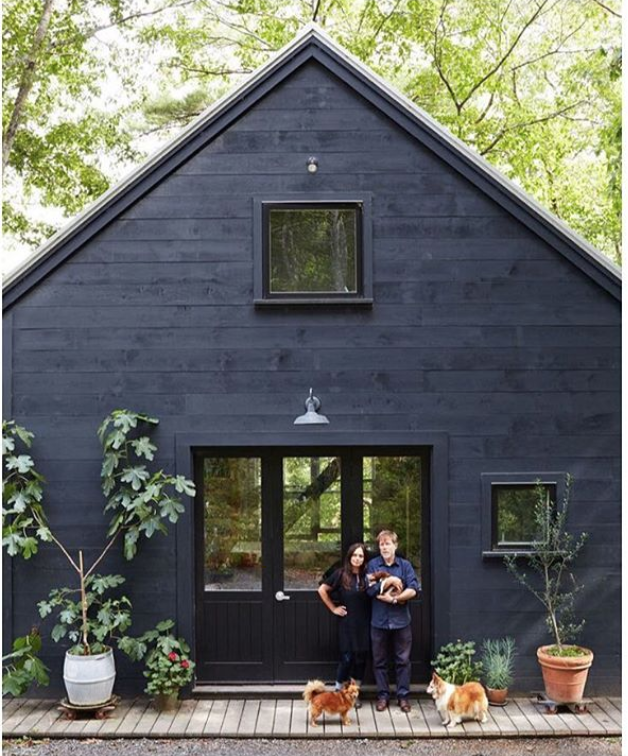 While you don't see a ton of black, navy, blackish-green, or even charcoal gray exteriors, these shades are still pretty neutral in the grand scheme of things. It's not like you're painting your home Tiffany blue or fuchsia pink. Dark, sophisticated colors bring the drama while still meshing with a variety of other trim colors, materials, and textures.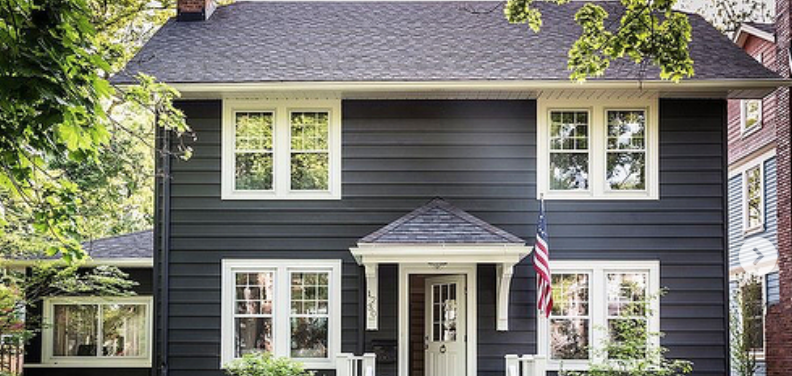 Dark exterior colors can also camouflage a weird architectural feature or two, as in the Michigan home of Michelle Adams' of The Maryn and Domino magazine fame. Once she painted her exterior Farrow & Ball's Railings, the weird pediment above her front door basically just receded into the space. An exterior paint job isn't cheap, but it's a lot more cost effective than construction in most cases to fix these kinds of eyesores.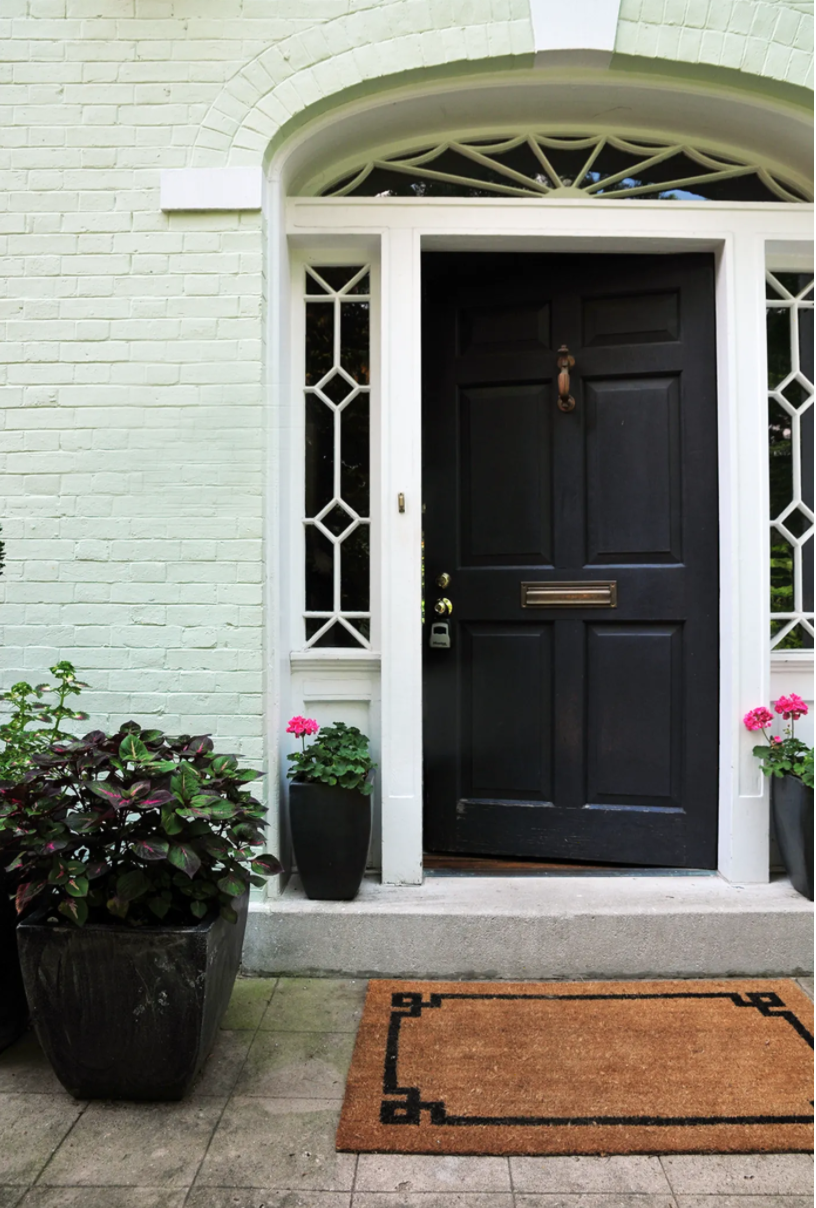 You also might score a few modern points, too, by going black or navy. Ultra-contemporary homes were among the first to have dark exteriors from what I've seen, but when you're upgrading a more traditional home, black or another dark hue can add that little bit of edge you might want. If you're not ready to go all in, you could compromise with a dark colored front door, shutter and trim situation—or some combination of the three. Apparently, going dark on these features pays off: A recent 2018 Zillow study found that homes with black or charcoal front doors sold for about ,271 more than expected. Not a bad return on investment for a 0 (give or take) gallon of paint.
But like I said earlier, there are a few drawbacks to going to the dark side. In general, black and other deep hues tend to fade faster than lighter colors. Think about it—exteriors are exposed 24/7 to the sun and the elements. So you might find yourself having to touch up your exterior paint job more than the average homeowner, though anti-fade paint technology has come a long way in recent years.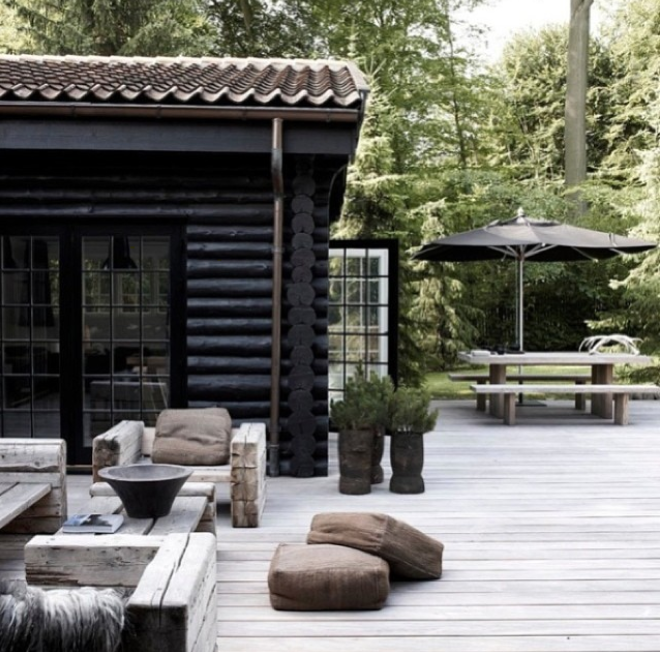 General upkeep is going to be a little bit more of an issue as well. Yes, dark colors can hide strange architectural features and a little bit of dirt, but they're also going to show actual weather damage and surface flaws more too. Dark cars always show scratches more prominently than light ones. That principle is kind of at work here, albeit in a much larger scale. Dark paint can also be more prone to peeling than lighter colors.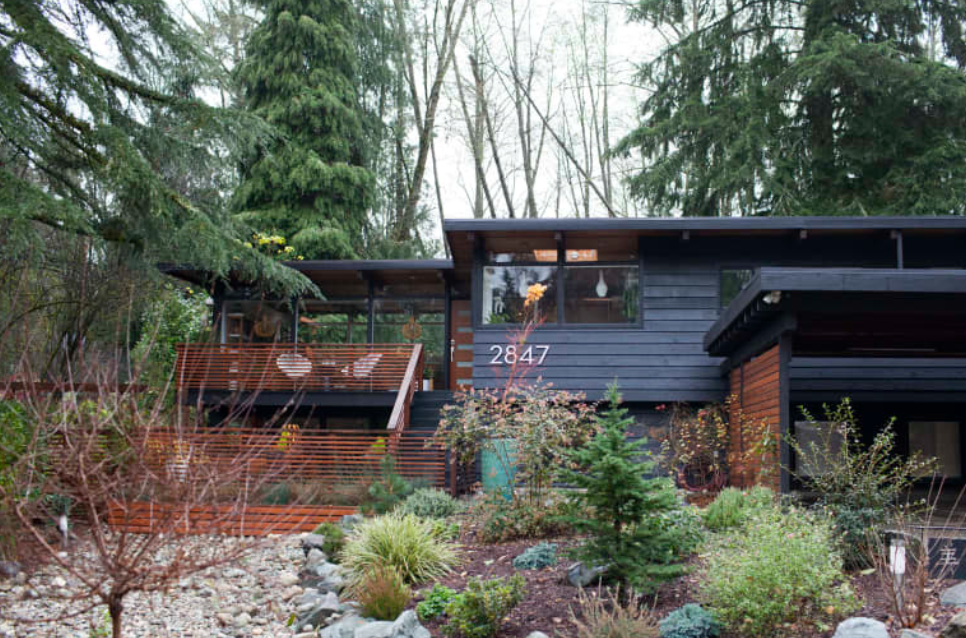 Thinking about heat absorption, dark exteriors are always going absorb more sun energy than whites, creams, and other light shades, which are more reflective. This could mean higher cooling costs during the summer months.
So now that you've heard the good and the bad, would you take the plunge on your home's exterior and paint it black? Darker exteriors certainly make for pretty photos, but has someone out there dealt with these issues first hand, either because you bought a black house or painted your facade dark? Tell us in the comments.